The CS5 Sensitive blades have been designed to deliver a close, comfortable shave for those with sensitive skin.
5 Ultra thin blades for less tug and pull
Diamond coated for extra sharpness & durability
Styling trimmer built into back of the cartridge
Viamin E lubrication strip hydrates your skin
Microfins stretch and smooth skin
▲ The More You Buy The Less You Pay ▼
Regular price
Sale price
£15.99 GBP
Unit price
per
Sale
Sold out
View full details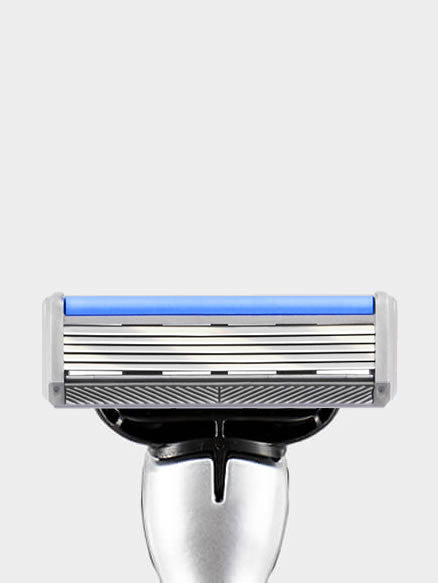 What Some of Our Customers Say
Harold Roy Schuster
As a retired barber I thought that the new razor blades were excellent i had a smooth shave the best I have used highly recommended
Robert Newman
Smooth shave and long life of blade
Kenneth Watt
I was very impressed with this product. The razor gave a good clean cut and the new handle was easy to manipulate. It felt very secure in my hand. I hope you introduce this permanently.
Vinny Kearney
Seems to cut a little closer
Ian Wright
The new blade produced a good clean comfortable shave. In fact it was one of the closest shaves I have had in a long time. The stubble was easily washed away under running water. I generally have to use a toothbrush to clean between the blades. I would certainly recommend this blade for the closest shave ever.
Allan Frost
I can't see any practical advantage in the 6-blade version as opposed to the previous 5-blade version … unless the 6-blades become markedly cheaper; that would influence my purchases. However, I felt that the lubrication strip on the new 6-blade version didn't last as long as the strip on the 5-blade version because a noticeable amount dripped off the first time I used it. Was this a fault or an intended feature?
Tony Davies
Blade is not as wide and shave does not last as long
Glynn Goddard
A very close,long lasting shave compared to the CS5 blades. No nicks, just a really close shave comparable to the Black razor however the blades last far longer. A whole month on two cartridges/blades is usual for CS5; 24 days on one cartridge is brilliant.
Peter Trotter
Considering the price differential between them is considerable and there being no noticeable forgoing of quality, Clean Shaven wins hands down. Excellent blades and razor fully matching the quality of a big brand name
David Matthews
I thoroughly enjoyed shaving with this razor, it was especially good if I hadn't shaved for a couple of days. This is a smart tool, very well balanced.
Michael Boyes
Like it? I'll say! Best razor I've ever used, thank you for razor sharp too!
Terry
Always recommend these to friends. Great value.
Mark
CS5 Mk2 Blades
I have to be honest the only thing I have liked about these blades is the improved styling trimmer. I thought I would give them a chance but much prefer the orange five blade razors.
I think the new ones have not given me the close shave I normally get and definitely have not lasted as long as the original five blade razors.
So glad that you can interchange the handles when a newer blade is introduced as most companies see an opportunity to capitalise when introducing new items.
In my opinion the original five blade razor with an improved styling trimmer would beat the new bales hands down.
Keep up the good work though Folks.
Cheers
Mark
Paul Lightfoot
A nice improvement on the mk 1 blades.
Smooth and close shave and don't clog up.
My son and I use these and will switch permanently to mk2 blades.
Phil Burton
I shave my head as well as my face..with these new blades i got 7 shaves out of 1 blade. definitely well worth the money
michael hall
Used for the first time today 13 October and very impressed with how smooth it has left my skin, I tend to shave every other day so I'm hoping the blade will last bit longer, when I start ordering new blades, I also like the idea ordering when needed and not having to go into a contract.
rangerskg
KENNETH GREIG
HI Used for the first time Last Week And Very Impressed How Smooth My Skin Is Now Definitely Will be Getting more Blades
And A Great Service THANK YOU
Peter Hurst
I have tried one of the latest blades but am not yet convinced they are better than the standard version, though being a bit more expensive. Having said that they arrived very quickly and are still good value for money.
Mark Davidson
I have been using Clean Shaven blades and shaving products for 3 years now. Used in conjunction with Clean Shaven shaving soap and a good shaving brush I find the blades better than more expensive supermarket brands.
Ease of order and prompt delivery make continued use a no brainer.
Brilliant service and gotta be worth a try if your undecided.
wac.ie
I have been using Clean Shaven for the past two years so when they launched the new Mk2 5 blade I naturally thought this would be even better than the orange 5, boy was I wrong. I can safely say that I have never used a more useless product in all my life. If you use the orange 5 Mk1 at the moment then stick with it as it is one million times better that the new blades. I am really surprised that company that in my opinion produced the best razor in the world with the Orange Mk1 5 blade could now actually produce the worlds worst razor in the Blue Mk2 5 blade razor.
MICHAEL CICALE
Very Good razor, but no way are cheaper than the Gillette Mach 3 s, I can purchase Mach 3 12 pack for £15.99 compared to Clean shaven C5 Blades, but I stress this razor from clean shaven does deliver a great shave,ONE TO PONDER
Jon
I didn't get on with these as much as the originals, however I was given an efficient refund and replaced them with the original version. I also won the monthly prize draw! So 5 stars for customer service, less one for the new blade.
Ian Robinson
Firstly, they do give a good shave. Whether they're any better than the previous, orange blades, I'm not so sure. However the swivelling mechanism clicks irritatingly when in use and it falls apart quite easily. I think the swivelling mechanism is poorly designed, cheap and shoddy. I'll be buying the cheaper, orange version in the future because it's better constructed and cheaper.
Mr.M.Cashmore
Although never used Clean Shaven before being a different brand
i would after reading other's views i'd like to give this blade a trial run./