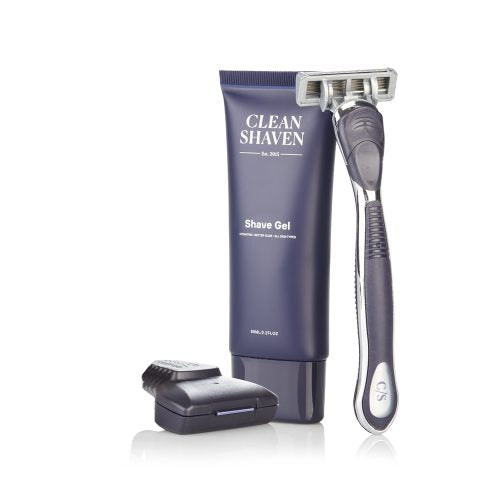 Trial Set | £3.99 £7.35
Try our razor, one off purchase, no subscription.
– Weighted razor handle
– 5-blade razor cartridge
– Shave gel (65ml)
– Travel blade cover

NEXT STEP
What Some of Our Customers Say
Phil Brown
I've been a Gillette shaver most of my life, tried other razors over the years, but despite all the claims made by the manufacturers, always found myself going back to Gillette.
I've recently become rather dismayed at the increasing price of blades, and so again, I found myself shopping around. I did try Harrys and it might just have been a bad batch but I ended up throwing it away after the second use due to the soreness and cuts after using it.
Then I came across the cleanshaven website, and after purchasing their £4.99 trial pack I can honestly say that I wont be going back to Gillette again.
The 3 blade razor is brilliant, and the shave cream does a really good job.Previous creams I have tried seemed to always be slightly greasy but after applying the clean shaven cream I found it easy to wash the excess off my hands under cold water.To be honest the 3 blade razor is so good that I cant comment on the 5 blade razor as I haven't actually used it yet.
Once I use the 5 blade razor I'll make a decision on what blades to use and will probably purchase another handle so I've always got one in my travel bag, and from now on will be purchasing my blades from cleanshaven as they are not only much better than the Gillette blades but also cheaper!
Kerry Sharman
I am very pleased with your shaving equipment, I love the feel of the razor it fits nicely in the hand and gives a close shave. I have triedHarrysRazors and Cornerstone, neither are a close match to yours. I have been shaving many years and I think I might have found the perfect shave.
Ralph McGregor
Overall I am really pleased with the razor trial you supplied. I have tried 2 other online companies, both of which appeared to actually supply the same base product.
Both of the aforementioned had a blade that was really really hard to keep clean, so after a few shaves it was all clogged up and did not cut half as well as a fresh one.
However, I have found that Clean Shaven blades are excellent, really easy to keep clean and use and the blade still seems really sharp after using it for a good while.
Justin Turberville
Although both razors are good I personally prefer the five blade type. This razor offers an effortless, precise shave without causing any irritation or rash which my sensitive skin has previously experienced with a lot of other leading brands. I have had the sample razor for a month now and it remains as sharp as ever which is a testament to the products quality. The clean shaven product has exceeded all my expectations, offering very good value for money, and for this reason, I will definitely be recommending the product to my friends/work colleagues.
Scott Dunlop
I'm very happy with the razors. They give an extremely close shave and I would definitely recommend them to a friend. I'll be ordering more of the 3 blade razor ASAP
Richard Deane
I have just had my first shave with your razor ,and I must say I am very happy with the result ,no more Gillette for me ,so well done clean shave.
Jacob Thalamus
Very good product, delivered on time, gives a good shave and they last at least as long as Gilette's much more expensive alternative
Craig Maclennan
Finally a blade that does not financially rip you off as well as the skin off your face. Long lasting blades and long lasting satisfaction
Kev Rees
Was getting fed up of either getting my pants pulled down paying the prices of some of the so called premium blades on the high street or paying slightly less and ending up getting complete and utter monkey crap blades. Clean shaven have ended all that for me, absolutely fantastic blades at an affordable, realistic price. I have used quite a few blades over the years and these are awesome. Absolutely effortless to use and give an amazing shave. Now i despise shaving but these blades make it a lot less of a chore than it used to be
Peter Tanham
Many thanks for ur swift delivery of the shaving blades which i ordered from you. I am delighted with the blades,and can honestly say that i have never used a better blade. I have recommended cleanshaven to other people.Once again, many thanks.
David Felsenstein
Although I was skeptical when ordering for the first time, I must confess that the blades matched up to everything they said. The handle feels good to use too.
Steve Cowin
Very pleased with the shaving system! Only wish I had found it sooner excellent quality shave (5 blade system) so and reasonable price too!
Joe Terry
My recent purchase from Clean Shaven was just what i was looking for, like a baby's rear. The right price and a world class product. Keep it up Clean Shaven. Who knows, you could become the market leader at the right price.
Terry Holttrum
Clean Shaven blades and handle are of the same quality, if not better, of a much dearer blade made by Gillette Fusion. At the age of 72 I cannot afford to take chunks out of my face. Would certainly use these blades all the time
Ron Lund
I have used all the top shaving brands, but NEVER had a cleaner shave at a cheaper price than I have had from Cleanshaven. I must highly recommend this product to all I meet.
Peter Osard
This is just to let you know that I am extremely happy with my clean-shaven razor and blades. I have been using them for about 3 months now and I can honestly say that the blades last 50% longer than the Gillette Fusion blades I was using before. Thank you. I am delighted to be able to support a small business because it is genuinely so much better than its very, very much larger competitor.
Bernard Harris
i have always used gillette fusion blades but my wife bought me this shaver with blades because it is a lot cheaper than gillette, i cannot believe how good this shaver and blades are. i am on my 10th shave with the first blade and it is just like the 1st shave it is so close a shave that i will not be using anything else but this razor and blades.
Paul Hutchinson
I recently purchased your products bearing in mind I have been using Gillette products for shaving for 44 years but have got really peeved at the price paid for blades ,clean shaven system is as good if not better but for half the price 5 out of 5 will certainly re-order
Stephen Townsend
Definitely 5 out of 5 for the quality, value and service. Delighted with the razors and there is no way Id change back to my previous brand. Have already recommended you to my son and son-in-law
Dave Nutall
I have been trying these blades for a couple of weeks and the quality and the feel of them are second to none. They are just as good as the big name brands at half the price.. Buy now you won't be disappointed.
Michael Robinson
I would just like to say that I was most satisfied with ordering, purchase and delivery of my blades and razor and the extremely user friendly web-site.
I am always a little sceptical about customer reviews on websites having had some disappointments in the past in respect of products which have had good customer reviews only to turn out to be a big letdown. However in the case of my clean shaven razor & blades, I found them to be equally as good as my previously used Gillette Fusion Blades. The blades give an extremely close, smooth shave and the razor is very comfortable to hold, a robust safe experience.
Overall I would rate them as 5 out of 5 and will definitely be using them for the foreseeable future. I have been looking for such a shaving system for some considerable time now as I was totally fed up with being ripped off. However up until now I have been very disappointed with low cost versions which proved sub-standard.
Paul Brown
I am writing to tell others like myself who are somewhat sceptical about claims that products are as good as well known brands, That these blades are as good as their well known competitor at a fantastic price.
Derek Smith
Try CleanShaven because this is as close as you are going to get. Smooth to Use, easy to Handle and a shave which lasts far longer throughout the day.
Kevan Booth
Hi just to let you know that the razor and blades are the best I have ever bought the razor is very Good quality as are the blades. I would recommend this product to anyone and the price is right
Pete Belcher
The blades ar fantastic, Now I know why The Company Is Called Clean Shaven, Its The Cleanest Shave Ive had for many years. Keep giving good quality, at a price that is far superior to the Gillette equivalent. At a very good price and I will certainly buy again and recommend to others
Barry Edwards
First ever purchase of blades from cleanshaven.co.uk and I am pleased to rate this product as a 5. They are well made and fit the razor handle with ease.
The actual shaving experience itself is quite remarkable as with only the lightest pressure the whiskers are quickly and very closely removed leaving your face both soft and very smooth.
This was brought to my attention by the grandchildren who actually said that Grandad hasnt got a prickly face I am still using the same blade after 2 weeks and still getting a close shave. Would recommend for anyone to try.You will not be disappointed
Kish Patel
I use to detest paying high prices for branded razors and tried cheaper options which never came up to the standard I was use to until I discovered cleanshaven.co.uk! This razor compares very well if not better than the branded razors I was use to. This razor is very comparable in quality at the fraction of the cost. The order process is slick and simple and delivered promptly. I have finally discovered a razor which meets my needs; a close shave at a very good price delivered straight to my door.
Peter Matthews
The razor blades are an outstanding product from a company that has for me completely given the ☠Big Boys a wake up call on pricing/design and longevity of the blades. Together with an excellent and quick service, i would say Dont Miss Out.
Bob Whitefield
Just to say enjoying your product very much ,a very close shave ,first blade still going strong after three weeks ,not sure about the handle though , having used the vibrating Gillette fusion for so long
Martin Prentice
I can honestly say these are the best blades i have ever had they last longer than the big branded names and are way better value if you are reading this please take my word for it i promise you will not be disappointed and you will never waste money on branded names again ,,,, 5 star fact,, easy to order and quick delivery thanks for changing the way i shave
Joel Cox
CleanShaven was recommended to me by a family member who has used your products for some time now. I wasnt disappointed with the results. Very quick delivery, sturdy product and above all, an incredibly close shave. Why didnt I hear of this product before? Would have saved me a fortune in replacement blades. Would highly recommend to others (in fact I already have)
Joe Morgan
I have just bought a trial from Clean Shaven, and there is no doubt that they fully measure up to everything that is claimed for them. It feels just right in your hand and the blade is ultra sharp, giving a smooth and very comfortable shave. I rate it better than the market leader which I have been using for years. Well done
Roy Webster
Yes this blade is bloody good. I used gilllette fusion proglide blades for a long time up till now.hold on stop there, if you want to pour money down the drain then you can do that in the pub toilets but dont do it with razor blades that are like gold to buy I now only use Clean Shave blades they are as good or even better than all the rest and a Bloody lot less money.
Peter Isard
This is just to let you know that I am extremely happy with my clean-shaven razor and blades. I have been using them for about 3 months now and I can honestly say that the blades last 50% longer than the Gillette Fusion blades I was using before. Thank you. I am delighted to be able to support a small business because it is genuinely so much better than its very, very much larger competitor.
Bryan Young
I would give these razor blades 5 out of 5, they are of high quality and better than your leading brands. The other main thing is they are a lot cheaper and i will continue to buy these blades from CLEANSHAVEN.CO.UK
Robert Stevenson
I had been looking for an alternative to the usual razor blades for ages after becoming totally fed up with the price I had to pay. Then I found Clean Shaven on the web and couldnt believe the prices. It took me about two months to decide to order, but I am glad I did. I would recommend without hesitation.
Paul Leonard
Simple ordering on the web and prompt delivery have made it the easiest way to save (or should that be shave) pounds off my facial care budget. The feedback on Facebook proved to me that clean shaven razors and blades are just as good, or even better than the so called market leaders. I know where my blades are coming from In future. A highly satisfied customer.
Jack Simpson
As a first time customer who has been using the clean shaven system in place of the increasingly expensive Gillette Fusion Blades I am very pleased so far with the new product. It gives as close a shave as the Gillette and seems to be a much stronger piece of equipment. If the blades last as long or longer than the Fusion ones (about 3 or 4 weeks) I will certainly be placing another larger order for the clean shaven blades.
Steve Woodford
Clean Shaven. Im absolutely delighted with my first purchase of Clean Shaven blades! Much better quality that the overpriced gillette fusion blades, I shave every day and Im still on the first cartridge after nearly a month and I only get about 4 shaves from that lot who have been carving us up for years.
Derek Atherton
Ordered the trial with 3 & 5 blade carts.
Lots of drag when shaving on both 3 & 5 blade carts, tried my old worn Gillette Fusion at the same time and it was much better than these new ones.
Threw the lot straight in the bin!
David Gough
Fantastic product fantastic company superior to any other razor I've used would highly recommend support these guys.
Julian Greene
Good value razors especially when compared to the ridiculously overpackaged likes of Gillette etc. The blades seem to last a reasonably long time.
Ian Campbell
Very good service, prompt free delivery. An Excellent Close Shave, As Good, if Not Better than Gillette at a Fraction of the Price. Keep it up guys AAAA++++
Alan Beveridge
Purchased these blades on a whim, I've tried a lot of these so called great shave blades. These are fantastic, I shave my head as well and these blades last a month or more. I shave my head most days but miss a few, smooth close and no discomfort at all. Recommend these to everyone. Try them it's not rocket science.
Andy Kinred
Great product which gives a smooth shave, personal preference is the 5 blade although the 3 is decent, only downside for me is the trimmer but I believe that has now been updated. I have also used the shaving cream and can highly recommend. Overall excellent value for money and shaves as well that other higher priced well known products.
Jeff Hubbard
After a 3 week wait it finally turned up. I tried a 5 blade which left me sore. So threw it away and now back on Gilette fusion. Imo save your money.
James MacKenzie
Well I must admit when I placed the order I had sum reservations but after the 1st shave i a now extremely happy , its now been a month & I am just on my 2nd blade ( I also shave my head every day so I use the razor twice as much ) so I get a good all round shave & no nicks or cuts keep up the good work & at the same excellent price & I will be a customer 4 years
Alec Stevens
The blades are certainly as good as the expensive branded ones. Ive now been using the same blade for two weeks and there is still plenty of life in it. Ive recommended your blades to friends which I wouldnt have done had I not been entirely satisfied.
John Oakes
I recently bought my first blades from cleanshaven. Initially I was drawn to the price advertised, having like all men paid a fortune for my previous blades. I ordered my first blades to save money, but what impressed me was the ease of ordering online. Also how quickly I received my order, within a few days. So then came the crunch, were they as good as the advert stated. Well I was very impressed the blades were sharp, they gave a clean smooth shave better than my previous blades. I will certainly be reordering and will recommend to friends and family.
Stephen Bagshaw
This is the first time I have used cleanshaven, because for ages I have been looking for a alternative to Gillette because they have gone ridiculous with there prices so to find someone like Cleanshaven who are much more competitive in price with the quality on a Parr, will definitely will be using them again.
Well satisfied well done Cleanshaven.
Paul McCue
I was delighted with my recent purchase from Clean Shaven. The quality of the razors was excellent and the price fantastic. I'lll certainly be ordering again and recommending you to friends and family.
John Kane
I just want to drop you a few lines regarding my recent purchase of blades from Clean Shaven. Having previously been a regular user of other 3/5 blade razor blades, I thought I would give the blades from Clean Shaven a try. I have been thoroughly impressed with the quality & design of both the blades & handle that came with my first purchase. Great value for money & the time between having to change blades, is a massive improvement on any other blades that I have used before. Clean Shaven blades are the way forward for anybody who prefers a quality wet shave.
Stephen Lancaster
Was a bit worried that something so much cheaper than shop brands would be a cheap imitation how wrong i was, not only were they a lot cheaper, but they give a better shave and last longer best gamble i ever took, well done me, well done Cleanshaven.
Terry Hynes
Just want to thank the cleanshaven company for the shaving blades recently purchased. The quality of blades are second to none. the service is quick and the price is only a fraction of the price you pay in the high street without any compromise in quality.
John Wilson
Pleased with the razor and blades and will probably continue to use your blades on a regular basis in the future.
Peter Trotter
Considering the price differential between them is considerable and there being no noticeable forgoing of quality, Clean Shaven wins hands down. Excellent blades and razor fully matching the quality of a big brand name.
Simon Boulton
Decent quality product. I find the blades take 1 or 2 shaved to 'break in', but after that brilliant. Shave twice per week, blades last about 6 weeks.
Andy Kindred
Great product which gives a smooth shave, personal preference is the 5 blade although the 3 is decent, only downside for me is the trimmer but I believe that has now been updated. I have also used the shaving cream and can highly recommend. Overall excellent value for money and shaves as well that other higher priced well known products
Choosing a selection results in a full page refresh.
Opens in a new window.